Antiphospholipid Antibody Syndrome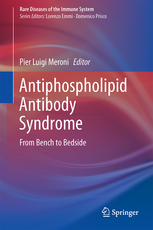 "Series: Rare Diseases of the Immune System"
This book, part of the series Rare Diseases of the Immune System, offers comprehensive, up-to-date coverage of the pathophysiology and management of the antiphospholipid syndrome (APS). Immunologic and genetic aspects are discussed and the pathogenic mechanisms responsible for such phenomena as APS-mediated thrombosis and pregnancy loss or complications are explained.
The main clinical manifestations and classification criteria are described and diagnostic tools, identified. Close attention is paid to the nature of the involvement of other organs or organ systems in APS, including the nervous, endocrine, hematologic, cardiovascular, and gastrointestinal systems, the kidney, the skin, and the eye.
Specific chapters describe the treatment of the different symptoms, the preventive therapies of value in avoiding recurrences, and innovative treatment approaches. The authors are senior experts in the field who are aided by younger fellows, ensuring that the book is also educationally oriented. This handy volume will be a valuable tool for postgraduates in training and professionals wishing to extend their knowledge of this specific syndrome.
Content Level » Professional/practitioner.
Keywords » Antiphospholipid antibody syndrome - Autoantibodies - Hughes syndrome - Phospholipid binding proteins - Pregnancy complications - Thrombosis.
Related subjects » Gynecology - Internal Medicine - Rheumatology.
Table of contents
Foreword.- Preface.- 1 APS: Introductory notes.- 2 Immunology and Genetics of APS.- 3 The paradox of the lupus anticoagulant.- 4 The pathogenic mechanism(s) for APS-mediated thrombosis.- 5 The pathogenic mechanism(s) for APS-mediated pregnancy loss.- 6 Classification criteria.- 7 Non-classification criteria.- 8 Obstetric APS.- 9 APS and the nervous system.- 10 APS and renal involvement.- 11 Non-thrombotic hematologic manifestations in APS.- 12 Heart and APS.- 13 Skin and APS.- 14 Additional organs involved in APS (eye, ENT, GI, endocrine).- 15 Treatment of thrombosis.- 16 Treatment of pregnancy complications.- 17 Asymptomatic carries of APS.- 18 New treatments.- 19 Secondary APS.- 20 Catastrophic APS.
Per acquistare online il volume "Antiphospholipid Antibody Syndrome" è possibile ordinarlo direttamente dal sito dell'editore a questo indirizzo:
springer.com